About Dragon's Blood - The Miracle Healing Tree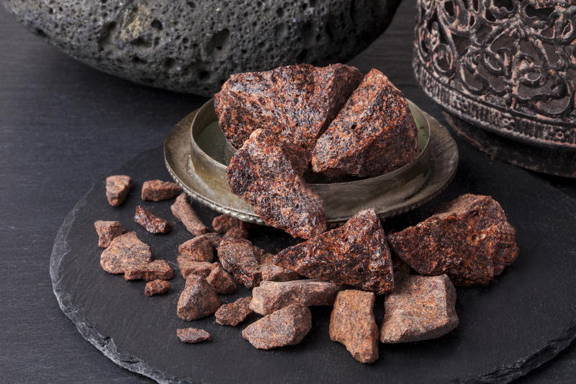 Dragon's blood - Croton Lechleri, is a dark, red natural plant resin that originates from the gum or sap of the plant groups Croton, Pterocarpus, Daemonorops, or Dracaena. Dragon's blood products from the Dracaena and Daemonorops genus are the most common and widely used today.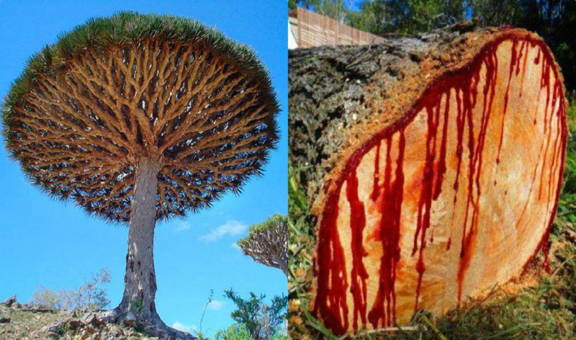 Dragon's blood has been used for a variety of purposes for thousands of years. Evidence of its use has been found in the Middle East, China, India, Ancient Greece and Ancient Rome. It has been used medicinally for health purposes. The indigenous tribes of Peru, Mexico and Ecuador, in particular, considered the resin a medicinal treasure, using it as a liquid bandage to stop bleeding, seal and protect wounds, and accelerate healing. It has a strong, sweetish fragrance.
Current research into the properties of Dragon's Blood shows it has anti-inflammatory, antibacterial, antifungal, antimicrobial, antioxidant, antiseptic, antitumor and cytotoxic, antiulcer and antiviral, immunomodulatory, muscular tissue regenerator, mutagenic and antimutagenic, purifier, skin conditioning, wound healing, among others (1,2,3).
Dragon's Blood In Skincare & Beauty Products
Dragon's blood has gained much interest in the cosmetic and beauty industry due to its high antioxidant values, skin protection and regeneration properties. The antioxidant values of foods listed are expressed in ORAC (Oxygen Radical Absorbance Capacity) units, a unit of measurement for antioxidant content which was originally developed by the National Institute on Aging (4).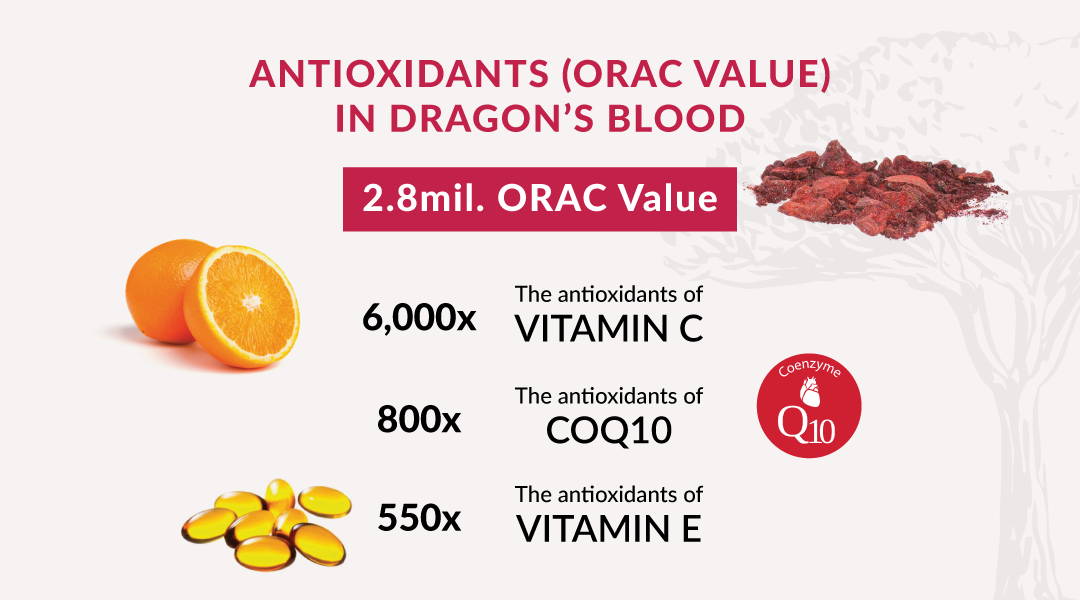 Dragon's blood has the highest known ORAC value of 2,897,110 giving it 6,000 times the antioxidant power of vitamin C, 800 times that of CoQ10, and 550 times that of vitamin E. Just as a comparison, Blueberries have an ORAC of 4,669 and turmeric 127,068. The high content of polyphenols, especially proanthocyanidins, one of its main constituents gives it this high antioxidant value.
Dragon's Blood has been studied for its effects on wound healing and skin regeneration. A study done on sixty patients (5), between the ages of
14–65 years, who were referred for skin tag removal showed there was a significant reduction in the duration of wound healing in those using a cream containing dragons' blood. The phenolic compounds and the alkaloid taspine, are the main reasons for the wound healing property of this plant. Taspine has a powerful cicatrizant (wound healing) effect which stimulates fibroblasts - cells responsible for the production of collagen, glycoaminoglycans, and proteoglycans - to migrate to sites of skin damage and multiply there. This helps regenerate the skin and rebuild connective tissue. Proanthocyanidins are chemical compounds that protect and strengthen collagen fibres enhancing skin suppleness and elasticity.
The combination of these chemical compounds and a high polyphenol content make dragons blood a super antioxidant for all skin types, especially in conditions where protection from oxidative stress and healing are required. Not only does Dragons Blood increase wound healing, it also forms a protective barrier over the skin to shield it from harsh elements. This reduces signs of aging such as pigmentation and skin damage from environmental damage and oxidative stress.
Damaged, sensitive and mature skin can take comfort in the protective, nourishing and healing properties of this amazing plant resin.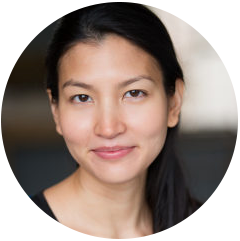 Article by: Dr. Carolyn Goh
Integrated Health Consultant,
BEng., MSc., PhD (DIC)., MBBS

Reference:
1. Chen Z.-P., Cai Y., Phillipson J. Studies on the Anti-Tumour, Anti-Bacterial, and Wound-Healing Properties of Dragon's Blood. Planta Med. 1994;60:541–545. doi: 10.1055/s-2006-959567. [PubMed] [CrossRef] [Google Scholar]
2. Pieters L., De Bruyne T., Van Poel B., Vingerhoets R., Totté J., Vanden Berghe D., Vlietinck A. In vivo wound healing activity of Dragon's Blood (Croton spp.), a traditional South American drug, and its constituents. Phytomedicine. 1995;2:17–22. doi: 10.1016/S0944-7113(11)80043-7. [PubMed] [CrossRef] [Google Scholar]
3. Gupta D., Bleakley B., Gupta R.K. Dragon's blood: Botany, chemistry and therapeutic uses. J. Ethnopharmacol. 2007;115:361–380. doi: 10.1016/j.jep.2007.10.018. [PubMed] [CrossRef] [Google Scholar]
4. https://www.nia.nih.gov/
5. Efficacy of Dragon's blood cream on wound healing: A randomized, double-blind, placebo-controlled clinical trial. ForooghNamjoyanaFatemehKiashibZahra BeigomMoosavicFatemehSaffaribBehzad SharifMakhmalzadehd
7. Porras-Reyes BH, Lewis WH, Roman J, Simchowitz L, Mustoe TA, Enhancement of wound healing by the alkaloid taspine defining mechanism of action, Proc Soc Exp Biol Med, 203: 18-25 (1993)