Frequently Asked Questions
How do I become a member of PURAS Malaysia?
Purchase our Welcome Pack valued worth up to RM177, for just RM70, and you will automatically become a lifetime member.
What do I get in the Welcome Pack?
Option 1: Single Notes EO (worth RM141)
1x 5ml Lavender EO
1x 5ml Japanese Mint EO
1x 5ml Lemongrass EO
Option 2: Roll-on EO (worth RM177)
1x 5ml Lavender RO
1x 5ml Japanese Mint RO
1x 5ml Rose Geranium RO
What are the benefits of this PURAS membership?
By becoming a member, you will enjoy an array of exclusive privileges, including: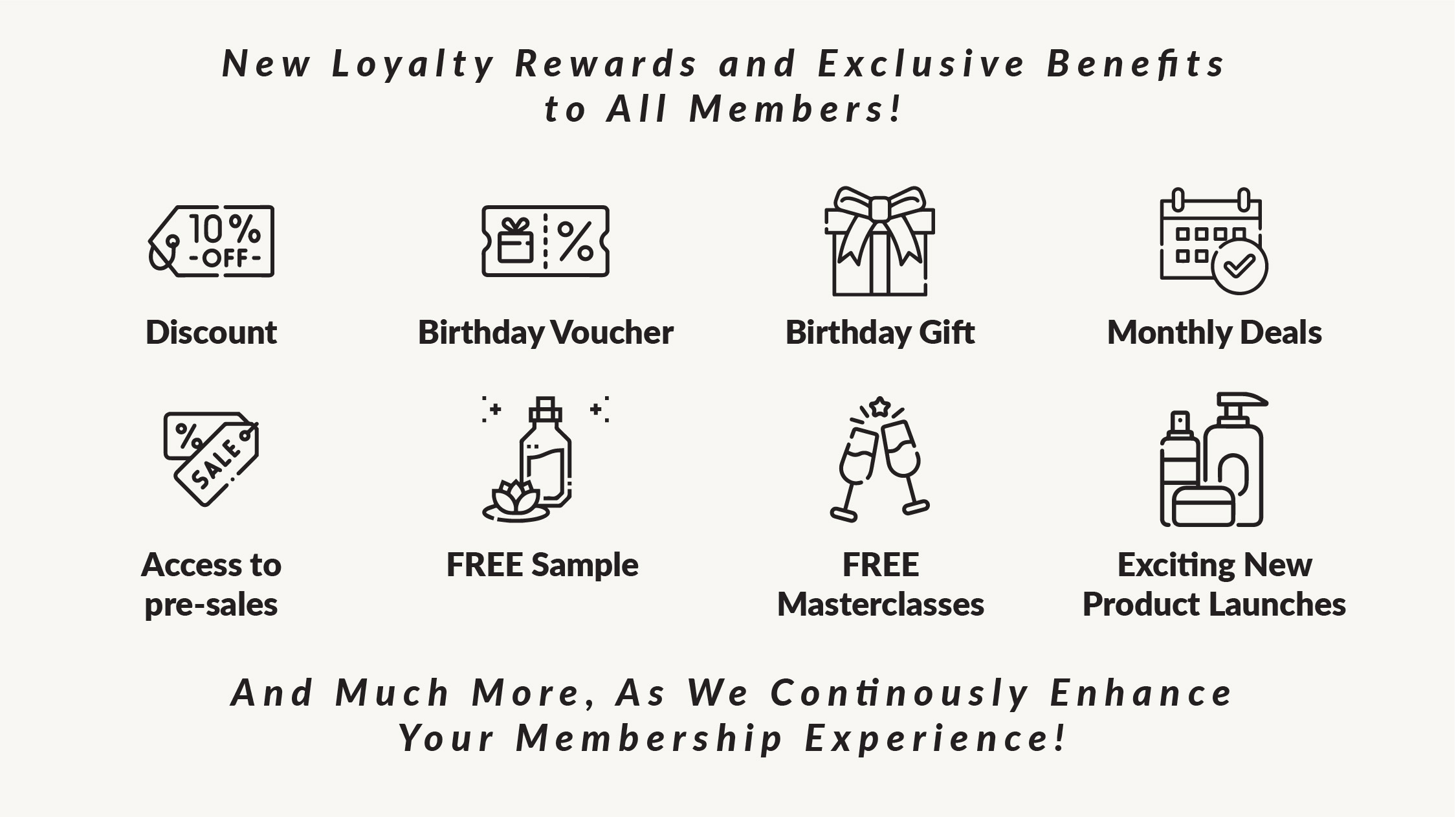 Can I enjoy member discount immediately when I purchase the Welcome Pack?
Discount benefit for other items will be applied and reflected at the end of the CHECKOUT process.
How to join as a new member?
To enjoy exclusive benefits as a new member, follow these steps:
1. Add the Welcome Pack to your cart.
2. Proceed to checkout.
Note: If you're buying other items, the discounted price will be shown at the end of the checkout process.
If you prefer to receive the discount in-store, provide your contact number to the staff for discount application.
For members who signed up in retail stores:
1. Activate your account by following the instructions in the account activation email.
2. Once activated, log in to our online platform for members' discounts on online purchases.
If the activation email is not in your inbox, check your spam/junk folder.
Thank you for joining our membership program. We're excited to provide you with exceptional benefits and experiences. Contact our customer support team (+6011 1668 3033) for any questions or concerns.
How can I stay updated with the PURAS membership loyalty rewards and exclusive benefits?
Stay ahead of the curve and be the first to hear about our latest products, exclusive promotions, and unique experiences by subscribing to our email newsletter and/or opting for Whatsapp notifications.
Do membership benefits apply when making purchases in-store?
Membership privileges apply to both online and offline purchases, unless otherwise specified. As a valued member, you can enjoy exclusive benefits and advantages across all channels of PURAS.
Note: Discount is applicable to regular-priced items only. It is not applicable for promotional items, bundled items, or accessories.
Do I need to have an account to shop in MYPURAS.COM?
Creating an account on MYPURAS.COM provides you with the advantage of a streamlined checkout process and the ability to track your orders conveniently. You can sign up for an account prior to shopping or during the checkout process. It's important to note that having an account on MYPURAS.COM does not automatically grant you membership with PURAS.
You also have the option to shop through guest checkout.
How do I create an account?
How do I sign in to my account?
How do I reset/change my password?
Head to Sign In page and enter your email address under Forgot Password. You will receive an email with a link to reset your password.
To change your password, sign into your account and head to Change Password. You can also do this through your Account Details page.
How can I edit/update my billing and shipping addresses?
Sign In to your account, head to My Account and then to View Addresses. You can then edit/update your shipping addresses and save them for future orders.