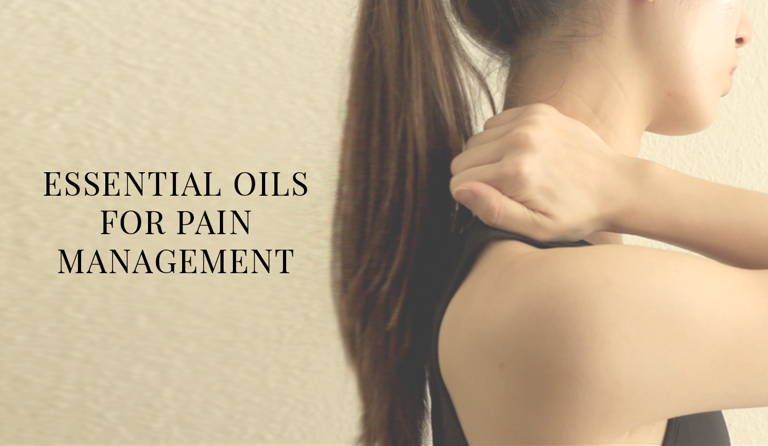 Whether you suffer from acute pain or chronic pain, joint pain, sore muscles, sprains, back pain, chronic inflammation, or rheumatoid arthritis essential oils might be the next thing you want to add to your pain management arsenal.
Essential oils (EOs) are highly concentrated plant extracts that come from tree bark or resin, roots, stems, leaves, flowers, nuts, seeds, and fruit. The therapeutic application of EOs is referred to as aromatherapy.
The active compounds in EOs are known to have many powerful medicinal properties and have been shown to help:
• Lower inflammation
• Soothe the nervous system
• Improve emotional well-being
• Treat allergy symptoms
When used as part of a holistic and natural pain management regimen EOs may offer relief from muscle aches and soreness without the harmful side effects often associated with over the counter pain medications.
How EOs Work To Relieve Pain
Essential oils contain hundreds of active compounds many of which are known for their medicinal and therapeutic properties. These compounds interact with the various systems of the body in many ways.

Here are four things you want in an EO for pain relief:
• Analgesic properties – to provide pain relief
• Anti-inflammatory effects – to reduce inflammation, which often causes pain
• Antispasmodic properties – to prevent painful muscle spasms
• Anesthetic capacity – many EOs act like local anesthetics
These are the ten best essential oils for pain and discomfort:
• Analgesic
• Anti-inflammatory
• Antispasmodic
• Anesthetic
Menthol, an active compound in peppermint essential oil, is a well-known pain reliever and anesthetic agent.
Peppermint essential oil is used to treat headaches, menstrual cramps, and even digestive pain and discomfort.
Contraindications: children under 6 years old, high blood pressure, pregnant and breast-feeding women
• Analgesic
• Anti-inflammatory
• Antispasmodic
Eucalyptus essential oil is rich in 1.8 cineole, an active compound known to help relieve pain and fight joint inflammation. (1)
A 2013 randomized clinical trial on knee replacement surgery patients described that inhaling eucalyptus every 30 minutes resulted in a resulted in perceived pain reduction and decreased blood pressure markers. (2)
Contraindications: Those with high blood pressure, epilepsy, pregnant and breastfeeding women, children under 6 years old
• Analgesic
• Anti-inflammatory
• Antispasmodic
A 2015
study found that rosemary essential oil may be a good adjunct to other analgesic drugs. (3)
A randomized controlled trial published in the Journal of the American Society of Pain Management Nurses found that 30 minutes of aromatherapy massage using an EO blend containing rosemary led to RA (rheumatoid arthritis) patients reporting less pain after 2 weeks. (4)
Contraindications: Pregnant women, epilepsy, high blood pressure, can be toxic if ingested in large quantities.
• Analgesic
• Anti-inflammatory
• Antispasmodic
Chamomile essential oil can relieve pain from menstrual cramps and it fights inflammation. A review published on Molecular Medicine Reports found chamomile to be a medicinal herb capable of treating rheumatic pain, ulcers, inflammatory pain, and burns. (5)
It also helps increase inner calm and promotes restful sleep, which can sometimes be difficult if you're experiencing pain.
Contraindications: None known
• Analgesic
• Anti-inflammatory
• Antispasmodic
Ginger oil is well-known for fighting inflammation-induced pain. A 2016 animal study found lowered rheumatoid arthritis-related inflammation rates in female rats after exposure to ginger essential oil. (6)
Another study published in Complementary Therapies in Medicine found that when used in aromatherapy massage ginger oil significantly reduced pain intensity in chronic low back pain patients. (7)
Contraindications: Might cause skin irritation if directly applied to the skin, use a carrier oil, and perform a patch test.
• Analgesic
• Anti-inflammatory
• Antispasmodic
This well-known oil offers several healing benefits and according to a 2015 review article, it's particularly effective for muscle pain and headaches. (8)
A placebo-controlled clinical trial found that inhalation of lavender essential oil resulted in a significant reduction in headache symptoms. The study concluded that lavender may be an effective and safe treatment for migraine headaches. (9)
Contraindications: Spike lavender (Lavandula latifolia) should be avoided during pregnancy
• Analgesic
• Anti-inflammatory
• Antispasmodic
Thanks to Frankincense's potent anti-inflammatory properties, the Arthritis Foundation suggests supplementing with Frankincense (Boswellia) to treat inflammation pain symptoms. (10)
Contraindications: none are known
• Analgesic
• Anti-inflammatory
• Antispasmodic
Clary sage is rich in linalool and linalyl acetate which are well-known analgesics. Clary sage may be helpful with menstrual cramp pain and uterus issues. (11)
A 2012 randomized, double-blind clinical trial found that an EO blend containing clary sage, lavender, and marjoram helped to reduce intensity and continuation of period pain and cramping following a daily massage with topical application of the oils to the lower abdomen. (12)
Contraindications: Don't use if pregnant or breastfeeding. Don't use it while consuming alcohol.
• Analgesic
• Anti-inflammatory
• Antispasmodic
• Anesthetic
Clove bud is known for its strong pain-relieving effects and when applied topically it can also serve as a local anesthetic. (13) (14)
This is really useful if you're experiencing a particularly painful sore, rash, cut, or scrape.
Contraindications: Not intended for long-term use. Don't use it directly on the skin without a carrier oil. Avoid if you are pregnant or breastfeeding. If you have sensitive skin perform a patch test before using.
• Analgesic
• Anti-inflammatory
• Antispasmodic
Lemongrass is considered both a potent anti-inflammatory and an anti-fungal. (15)
Contraindications: Don't use if pregnant. May cause skin irritation when applied topically.
Other oils that are known to be analgesics and/or anesthetics:
• Fir Balsam
• Birch
The Pros And Cons Of EOs For Pain
• EOs are potent – a little goes a long way. Just a few drops can offer multiple active compounds that can help manage pain, inflammation, and other discomforts.
• High-quality EOs should be 100% natural, undiluted, and certified organic. This is their most potent and effective form.
• If used with care and mindfulness EOs are relatively low-risk and offer little to no side-effects when compared to most conventional prescription or over-the-counter medication.
You can mix and blend various EOs to enhance and amplify their pain-relieving effects.
• EOs are potent – unnecessarily high concentrations or misuse cause irritation and adverse reactions.
• Unfortunately, there are many impure EO products out in the market that feature misleading claims and labels. It's estimated that more than 75% of all EOs on the market are either diluted or contaminated with synthetic material. (16)
• EOs aren't cure-alls, especially if you're experiencing severe pain. (If you're dealing with a persistent or unusually painful condition or outbreak please consult with your physician or medical provider prior to using them.)
How To Use Essential Oils For Pain Management
Ready-made blends for Pain Relief